About
INTERNATIONAL COMPETITION
FOR CREATIVE PROFESSIONALS
Hermes Creative Awards . Armed with their imaginations and computers, Hermes winners bring their ideas to life through traditional and digital platforms.
Each year, competition judges publications, branding collateral, websites, videos, and advertising, marketing, and communication programs.
About
award
The Award.
The Hermes Creative Award statuette is a majestic symbol of the ancient Greek messenger who, according to myth, was the Olympian god of literature, orators and poets.
The sleek H with its intricately carved wings, the Hermes Creative Award statuette is a contemporary, abstract piece of art recognizing the messenger's role in creativity, design, and technology.
The award is the creation of Hermes' design staff working with artists and craftsmen from Society Awards, the world's foremost designer and fabricator of custom awards. Society Awards' clients include the Golden Globes, Emmy's, MTV, Academy of Country Music, YouTube, The Voice, and Dancing with the Stars.
award
Categories
CATEGORIES
Entries are judged at random. Your work is judged on creativity and what you apparently had to work with, not against the other entrants in the category. A 2-color and a 4-color brochure in the same category are not compared to each other. A small company is not compared to a Fortune 500 entrant in the same category. There can be multiple winners in a given category.
New to this year are Achievement categories. Hermes categories are designed to recognize recently completed, specific projects. However, over the years, we have been asked to recognize individuals and teams for their body of work.
PRINT MEDIA
ADVERTISING
MARKETING
WRITING
PR / COMMUNICATIONS
STRATEGIC PROGRAMS
MEDIA RELATIONS
PUBLICITY CAMPAIGNS
ELECTRONIC MEDIA
WEBSITES
AUDIO + VIDEO
INTERACTIVE + SOCIAL MEDIA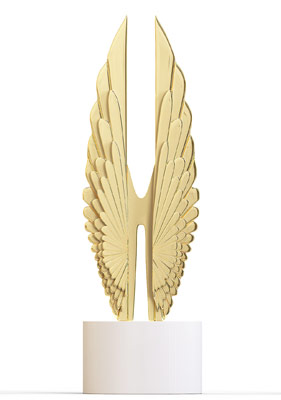 Categories