About
WE ARE...
AN INTERNATIONAL COMPETITION
FOR CREATIVE PROFESSIONALS
involved in the of traditional materials, marketing and communication programs, and .
Entries come from corporate marketing and communication departments, advertising agencies, PR firms,
graphic design shops, production companies, web and digital creators and freelancers.
The competition is set up with two hundred categories distributed under the headings: , and . In addition to individual deliverables like advertising, publications, websites and videos, categories also include strategic campaigns and media placements.
About
award
The Award.
After more than a decade symbolizing excellence in marketing and communications, the Hermes messenger award has a revolutionary new look designed to reflect the rapidly evolving industry that it represents.
The sleek H with its intricately carved wings, is a modern, abstract piece of art recognizing the messenger's role in creativity, design and technology.
The new award is the creation of Hermes' design staff working with artists and craftsmen from Society Awards, the world's foremost designer and fabricator of custom awards. Society Awards' clients include the Golden Globes, Emmy's, MTV, Academy of Country Music, The Voice and Dancing with the Stars.
With the new award, revamped website and updated categories, Hermes Creative Awards pays homage to its past, while better recognizing the skills and technology of a new generation of marketing and communication professionals.
award
Categories
CATEGORIES
Entries are judged at random. Your work is judged on creativity and what you apparently had to work with, not against the other entrants in the category. A 2-color and a 4-color brochure in the same category are not compared to each other. A small company is not compared to a Fortune 500 entrant in the same category. There can be multiple winners in a given category.
PRINT MEDIA
ADVERTISING
MARKETING
WRITING
PR / COMMUNICATIONS
STRATEGIC PROGRAMS
MEDIA RELATIONS
PUBLICITY CAMPAIGNS
ELECTRONIC MEDIA
WEBSITES
AUDIO + VIDEO
INTERACTIVE + SOCIAL MEDIA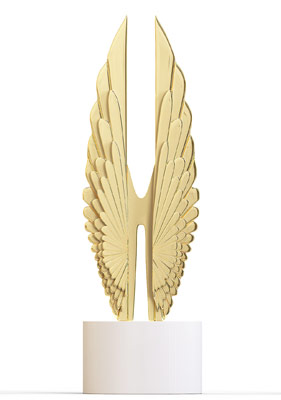 Categories